by gcadmin on Sunday, April 22nd, 2018
I found this great cartoon at Mass tonight.  It is funny – but also serious. The shepherd is adding a chip to his sheep.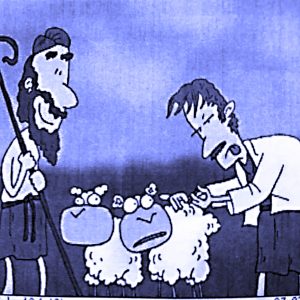 The micro-chip symbolically showing the dedication of the shepherd to take care of each and every one of his flock.  No doubt that if Jesus needed to take care and track his sheep today it would need more than a micro chip – something more like find my phone app to locate lost sheep – us – across the planet.
I discussed God symbolically using a universal identifier and even cookies here to track us in this article.
Whether it is the micro-chip in the humorous cartoon, a find my phone app, a universal identifier that we are stamped with, or perhaps more simply that Jesus knowing us by who we are – knowing us by our name – what is important is that our shepherd Jesus Is prepared to lay his life down to save his sheep.
John 10:11 "I am the good shepherd. The good shepherd lays down his life for the sheep."
Compassion of the Shepherd
The word compassion comes from the Latin 'compati' meaning to bear or suffer with.  It is not pity, sympathy or commiseration. Those words imply we stand outside an experience and feelingly look in on it.  Compassion is about 'fellow feeling'. It is what the Good Shepherd embodies and what Easter is all about.  If we are worthy followers if Jesus, then as Jesus remained a faithful follower of the Father, and the Father of Jesus, so Jesus will remain faithful to us.
Are you worthy of your shepherd?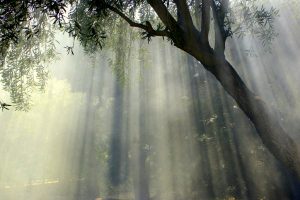 Jesus is watching us – each and every one of his sheep. He knows how we are feeling, if we are depressed, sad, frustrated, content or happy.
With our shepherd taking care of us, and willing to die for us, there is no need to worry.
He's got our back. Do you have his?
Gratitude with Gravitas ~ A Seriously Good attitude.
---
Posted in Bible, Jesus, Philosophy.
---